Welcome to our Online Store (beta)
We have been in Japanese film and video industry since 1997.
Having been in a tight contact with our valuable customers, we have manufactured several dozens of niche, yet invaluably useful original products. And now, we decided to take orders worldwide - with only one product to begin with.
TF-PLATE - (possible) de facto standard for sachtler tripod
About a product
Long plate for sachtler tripods.
Improves stability with larger, matching dimension of a tripod head.
Fits various cameras with either 1/4 or 3/8 camera fixing screw and with long hole on the plate.
Threaded hole prevents screw from falling off.
Machined in one piece for maximum durability.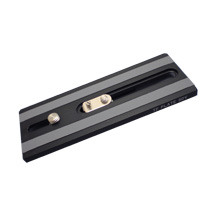 Specs.
TF-PLATE 1
(VIDEO-18) 175x75.5x5.5
TF-PLATE 2
(VIDEO20 / 25) 195x75.5x5.5
TF-PLATE SB
(V18SB / V20SB) 217x74.5x5.5
TF-PLATE SDV
(for small camcoders)
(DV4/6/8) 150x55x6.5
Price
TF-PLATE 1
$169.00
TF-PLATE 2
$169.00
TF-PLATE SB
$189.00
TF-PLATE SDV
(for small camcoders)
$204.00
Shipping and payments
Ordering
We accept international orders. Please contact us to receive an e-mail for total costs and shipping rates and times.
Payment
You are able to use PayPal to pay online if you have a PayPal account. Please see details on PayPal website.